What's the most important element of running a social media fan page? Likes? Comments? Maybe, but as the name implies, having an extra channel to attract and interact with followers is probably the very first reason of setting up a social media page for your brand.
While the current social media landscape leans towards the paid model for your content to reach your target audience, viral reach (i.e. friends of fans seeing the post because they share it) still has a role to play given its ability to expand your fans base.
One of the most popular ways to generate viral reach on Facebook is wall post campaign/contest which involves an incentive (e.g. 3 tickets to a theme park), a set of entrance criteria (e.g. like and share this post, tag 2 friends that you want to go to theme park and tell us why, add the hashtag #unforgettable, leave a comment before the deadline) and most importantly, the winning condition (e.g. the most creative commenter, randomly selected winner).

The complexity of the winning requirements varies with the value of the prize. A skin care brand giving out samples might simply require fans to tag a friend in the comment and pick the last 30 users who left a comment before the deadline as winners, while a low-cost airline giving away two flight tickets could require fans to share their travel experience with a photo attached in the comment.
A general rule of thumb is to take a balance between incentive value, selection criteria and workload involved. There's no cookie-cutter way of designing a Facebook campaign as each approach has its own pros and cons. Take the criteria of "the most creative comment", while it involves the least amount of manual check other than the comment time, complaints about similarity of comments could happen. If you a running a campaign for the first time, it's always good to start small both in terms of incentives and rules so that you have enough time to find the balance.
To protect your page from disputes, it is always good to publish a list of terms and conditions in Facebook Notes each time you have a new campaign. A good sample could be found here.
Even though there are plenty of campaign templates that you could readily use, the most challenging work does not start till the campaign ends. Despite all the good intentions, wall post campaign could easily tarnish page image if the winner selection process is deemed unfair by contestants. Imagine all the angry reactions and unfollows that you have to handle.
One way to avoid this is to involve as little human judgement as possible when running checks against the comments.
With the help of plugins like Sudota's comment exporter, you could easily export details of each individual comment like time, commenter name, actual comment, tagged users etc. to a Google sheet for free!

What's more, instead of using formulas to run checks against comment time, post likes, unique comment, number of tagged friends or mandatory hashtags, why not let our add-on handle it? Give it a try today, it's free!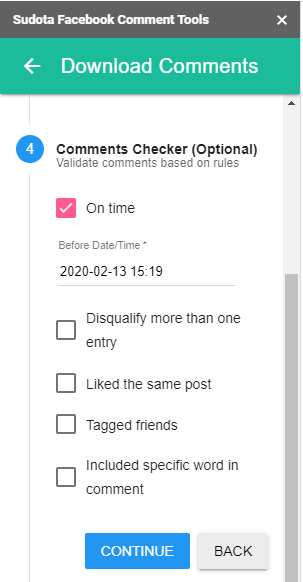 Automatic rules checker
In conclusion, while Facebook contest is effective in generating viral reach for your page and attract new fans, it could easily damage your brand's relation with fans if not handled properly.
Finding the right mix of incentive value, selection criteria and post-campaign work, creating a terms and conditions note and minimizing manual effort with the help of tools like Sudota's comment exporter are the keys to running a successful Facebook wall post contest.